G6: World's First 60W Travel Adapter with GaN
After 7 successful campaigns, Chargeasap is back with G6 – the World's First 60W GaN Travel Adapter!
It charges up to 4 devices at one go with auto-resetting fuse! Imagine being able to bring just 1 charger to charge your Macbook, iPad and iPhone
ANYWHERE in the world from your homes to offices and cafes!
Now available at an UNBEATABLE price on Indiegogo!
Scroll to the bottom to access RHB's exclusive perk.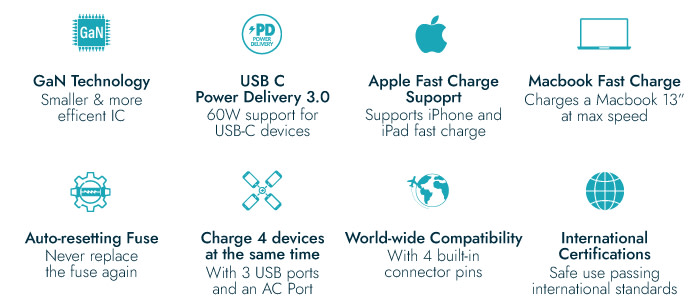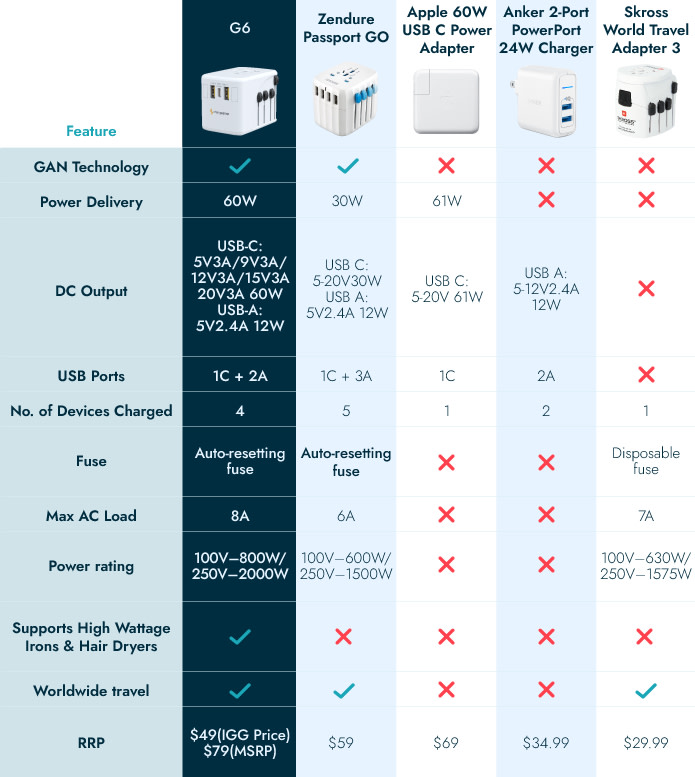 Input plugs: Switzerland, Italy, Brazil, UK, USA/Japan, Australia/China, Europe (Schuko & 2-pole Euro)
Output plugs: USA, UK, Australia/China, Europe (Schuko)
Input: 100 V – 250 V, 50/60Hz 
Maximum Load: 8A
Power rating: 100V – 800W / 250V – 2,000W
Fuse: Auto-resetting
Interface:
1 x USB-C Output: 5V3A/9V3A/12V3A/15V3A/20V3A, Max 60W
2 x USB-A Output: 5V2.4A, Max 12W
Maximum USB Total Output: 60W (65W for Flash and PPS-compatible devices)
Average active efficiency: 90.99%
Efficiency at low load (10 %): 86.89%
No-load power consumption: 0.03W
Device Operating Temperature: -20℃ – 40℃
Safety Protection: overvoltage/overcurrent/overcharge/undervoltage/short circuit/temperature protection
Enclosure: Polybutylene Terephthalate
Dimensions: 53mm x 75.5mm x 55.6mm (2.1″ x 3″ x 2.2″)
Weight: 170g (6oz)
Weight with packaging: 220g (7.8oz)
Warranty: 2 years
RHB Exclusive Perk

All RHB backers will receive an
EXCLUSIVE SUPER EARLY BIRD PRICE OF $39USD ONLY
+ 1x 1.5m UNO Cable + 1x X-Connect Adapter Set

Please do note the perk comes with a cable & adapter which comes with a connector tip.
1 x 1.5m cable, adapter, tip (of your choice eg: lighting / Type-C)